pSeven: design optimisation, predictive modelling and advanced data analysis
DATADVANCE

DATADVANCE is an independent software vendor originated from Airbus Group and Institute of Information Transmission Problems. They are specialised in the development of process integration, design space exploration and predictive modeling software, called pSeven.
pSeven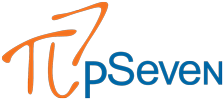 pSeven is a software platform that provides advanced tools for Design Space Exploration packaged in an easy-to-use graphical user interface. pSeven allows even non-math experts solve challenging engineering problems and discover optimal designs just in a few clicks.
By creating an approximation from existing test, experimental and/or simulation data pSeven allows to predict response values for new designs, accelerate complex simulations and capture essential knowledge from vast amounts of data. Such models are also often called response surface (RSM) models or surrogate models.
Automatisering en integratie
pSeven is a platform that allows to capture even the most complex design processes by integrating tools for Design Space Exploration and CAD/CAE software you are using into a single workflow, define its logic and collect, manage and reuse engineering data.
Integrated in many CAD (SOLIDWORKS, CATIA, PTC Creo, Siemens NX, KOMPAS-3D) and CAE (Ansys Workbench, Ansys CFX/Fluent, Simulia Abaqus, FloEFD (through XML files), Nastran, Matlab, OpenFOAM, etc.) software.
Download brochure
www.datadvance.net
For more information feel free to
contact
us.